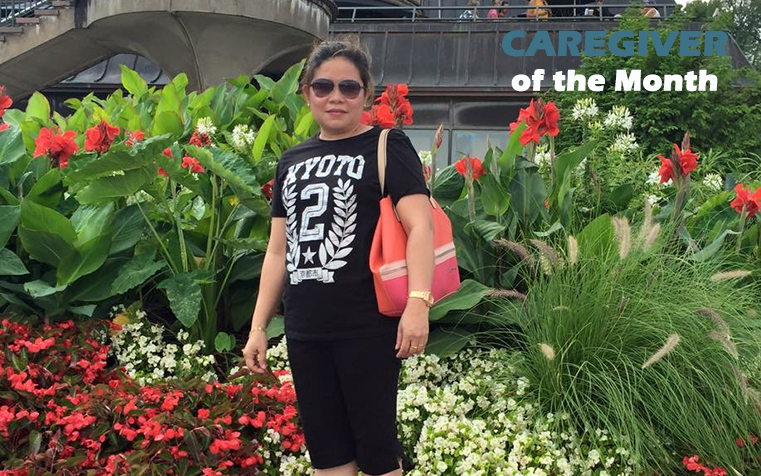 CAREGIVER OF THE MONTH- JANUARY 2018
March 3, 2018
Uncategorized
Senior Homecare By Angels is very proud to announce Jenalyn Gaspar as our recipient, Caregiver of the Month. Jenalyn was recognized for her dedication, loyalty, and commitment with our client that she has been working with for many years as a live-in caregiver. She is so wonderful, full of patience; and it takes so much integrity for someone who can stay that long working as a live-in. She is inspiring. Our team admires Jenalyn for having such great dedication.
Our client's family made Jenalyn felt like she was a part of their family. She respected them and they loved her. Jenalyn will get anything for the client whether for personal care needs or support. She has been continuing to provide a support physically and emotionally with our client. She had been grateful with David for providing pick up arrangements when Jenalyn started working as a live-in caregiver with another client, during the time when she first started working for us. After this client, Jenalyn was offered with this current client that she has been working as a live-in caregiver now.
Jenalyn has been working with Senior Homecare By Angels since January 2015 and currently working live-in caregiver for our client in a homecare setting. She was a Registered Nurse back in her home country and worked as a caregiver in Hong Kong. She had experienced working with a client who had Alzheimer's for four years when she arrived in Canada. She felt blessed while working with this client and family; and expressed that she would never forget them. Jenalyn likes to spend time with her friends and family during her free time.
Congratulations Jenalyn and thank you for all this wonderful care that you've shown and given. We are so blessed to have you on our team.