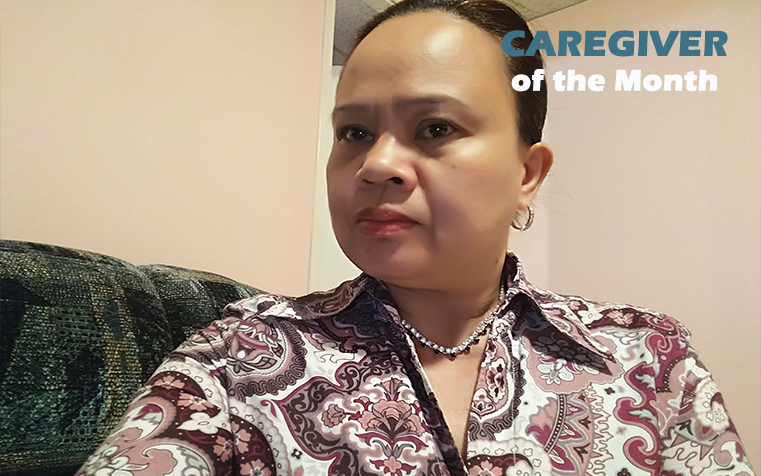 July 30, 2018
Congratulations to Judith! Senior Homecare By Angels is proud to announce that Judith Dongpol is our Caregiver of the Month, June's recipient award. Her compassion, schedule flexibility, and stepping up to the plate are some of the qualities that we have recognized and valued greatly. There was a time when our office needed to cover another caregiver's schedule in a very short notice to work within few hours, and Judith had agreed to cover the shift. Also, there was another time when the caregiver had to start later, and Judith had agreed to extend her night shift to cover until the day shift caregiver came back. Judith took actions just to ensure there were some coverage for the client, since it was a sensitive issue in terms of time constraint and client's preference of continuity of care. She took responsibilities and did not hesitate by taking charge of the situations.
Judith is patient, caring, and understanding to the needs of the clients. She respects the clients and understands what she or he is going through. It is a rewarding experience for her to care for them knowing that our clients feel comfortable, joy, and content. She even loves singing together with them, and this is her creative way to get their attention when the clients are feeling agitated or confused. Judith is a such a treasure!
Judith has been working with Senior Homecare By Angels since October 2016 and currently working full time shifts for our client in a facility setting. She is a Personal Support Worker certified and had worked as a nanny and caregiver for 17 years in Hongkong before coming to Canada. She had worked with cases of Dementia and Alzheimer's. Judith enjoys spending great time with her church members and friends. She likes to cook and clean during her free time.
We are grateful and appreciate you Judith! We hope that you continue your success with us!