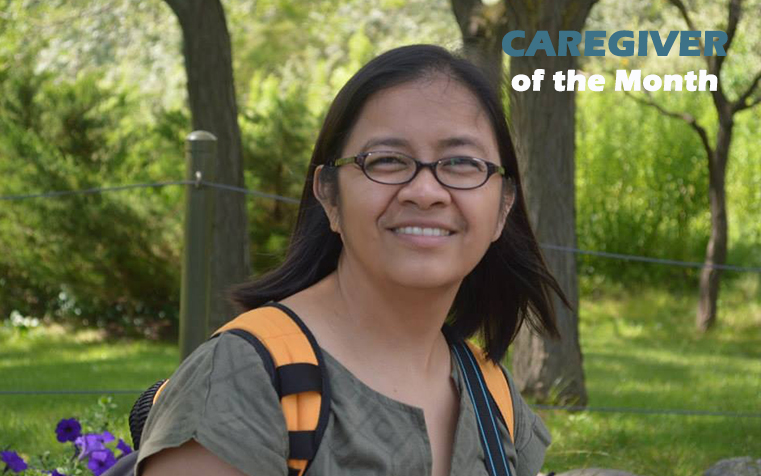 November 7, 2018
Senior Homecare By Angels is proudly present Mia Villa Galang, our Caregiver of the Month. We are so blessed to have Mia on our team. There are no other words to describe how wonderful she was! In addition to Mia's nurturing and caring characteristics, she works well with the team and is flexible when it comes to her availability. She would be willing to help to cover the schedule when needed. If there are any circumstances that are too challenging for her, she will respond to these situations in a positive way.
Our client's family are grateful for all of Mia's help and support. They complimented Mia's "professionalism, loving, and level-headed care for the parents." Mia had helped the client developed the skills when it comes to "sudoku and computer as it benefited to their daily care and emotional well-being, especially the father." According to the couple's daughter, "the dad appreciates Mia's assistance with his exercises which help him maintain his mobility and independence." Also, Mia was appreciated for her "stability and calming influence" when the daughter calls her to notify if there is any cancellation on the schedule. "We also appreciate your concern and your communication skills with all the caregivers and team members. We realize that our family is most fortunate to have such continuity will all of the caregivers from David's company and the community caregivers. We realize that this harmony is unique." This wonderful feedback came from the couple's daughter. She also thanked Mia's "continued compassion and assistance in keeping both of my parents well-groomed, in good humour, safe, and enjoying an excellent quality of care."
Mia has been working for Senior Homecare By Angels since October 2014. She graduated from Nursing back in her home country, and had worked as a Patient Care Assistant in the geriatric ward in the Middle East. Mia had worked with cases of Dementia and Alzheimer's.
Mia enjoys watching television with her children and friends during her free time.
Congratulations Mia! We are so proud of your achievement. Great to have you on our team. You are fantastic!