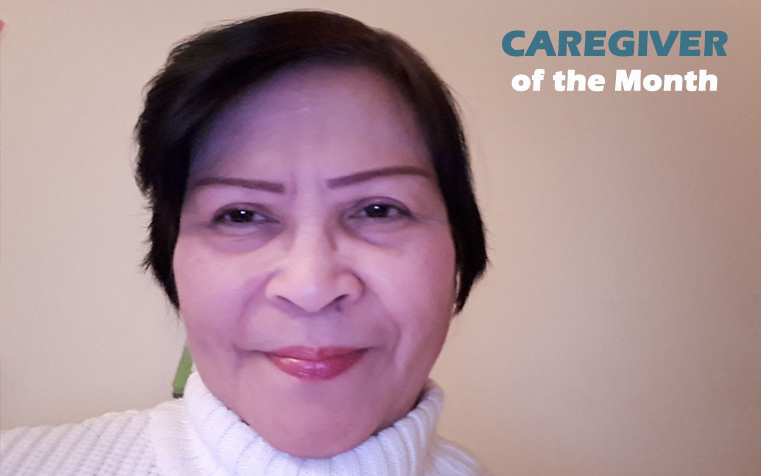 April 17, 2019
Senior Homecare By Angels is pleased to announce Lutgarda Quiban as our recipient, Caregiver of the Month. Her dedication and loyalty to our company and clients have been recognized, as well as flexibility. She always ensures that our clients are well-taken care of, tasks were done appropriately, and reports to our office for any updates or concerns.
She shared many different experiences with our clients and learned from it. She was able to handle a client with mobility issues that were challenging and able to perform a day to day household duties that required diligent cleaning, even going beyond the call of duty performing tasks such as looking after their pets. She enjoyed accompanying them for their medical appointments, learned how to play card games with them, did things together such as the client's hobbies. She tried to engage the attention of the client by being creative in the activities she comes up with to keep the client interested, involved, and stimulated.
Lutgarda has been working with Senior Homecare By Angels since June 2014. She has been working on different settings- private homes, retirement homes, hospitals, assisted living, nursing homes. She was a Registered Midwife back in her home country, and studied Bachelor of Science in Nursing. She had worked as a midwife in a community for 23 years in her home country; and as a nurse for 17 years in the Middle East. She is a Registered Personal Support Worker here in Canada. She had experienced with cases of Alzheimer's (severe stage), Dementia (mild and severe stages), and other chronic disorders such as COPD.
Lutgarda enjoys doing household chores, exercises, meditation and prayers, reading books and Bible during her spare time.
Congratulations Lutgarda and thank you for everything that you have done for our company and our clients. You are a gem! We hope that you continue your success with us!