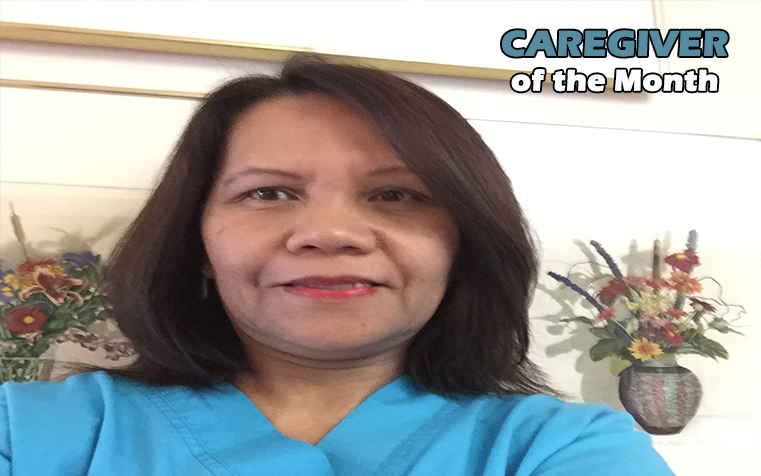 November 7, 2017
Congratulations to Leonida! Senior Homecare By Angels is proud to announce that Leonida Feliciano is our Caregiver of the Month, October's recipient award. She was recognized for her ability to cope and handle situations well. Leonida had cared for many different clients in the past, and the clients she handled had different medical conditions. She had learned routines, tasks, and medications involved. She performed her duties diligently and tried her best to overcome some challenges. She had encouraged her clients on what they could do and should do for themselves by helping them to discover their own capabilities and strengths.
There are so many ways to describe Leonida, for instance, the wife of our client that Leonida is currently working in a facility, enthusiastically stated, "She is marvelous, very caring, well-deserving. I trust her and she is so good with my husband." Also, the wife of our client mentioned that Leonida has been working for the husband for 5 ½ years. At first, Leonida had lived and was working at their home 24/7 for couple of years. When the husband was transferred to a facility long term care, Leonida went with him and continued to work in that facility. She has this remarkable compassion towards this client. She is passionate about her work, loves her job, and enjoys it everyday. All those precious times that she is spending with her client in this facility such as taking him to the concert, programs, exercise, taking for a walk, singing along during Shabbat, Leonida is just so happy. Leonida is conscientious. She is determined to learn more about her clients and their medical conditions by educating herself so she could be able to manage to care for her clients better and improve their quality of life.
Leonida has been with Senior Homecare By Angels since December 2012 and currently working full time shifts for our client in a facility long term care. She worked as a caregiver for 8 years in Taiwan and Hong Kong. She became a Personal Support Worker here in Canada. Her experiences were diverse with different medical conditions such as Alzheimer's, Dementia, Autism, Diabetes, and Cancer. Leonida likes to spend time with her friends during spare time and enjoys celebrations and occasions with them. She and her friends wear costumes and take pictures for remembrance during special events.
Leonida, we are truly blessed to have you in our Senior Homecare By Angels family! We thank you for all those years that you have been with us. You are amazing!