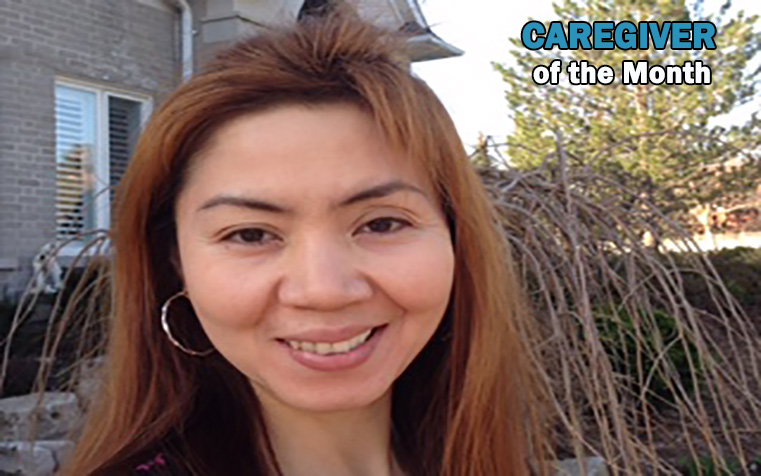 April 11, 2017
Senior Homecare By Angels is very pleased to announce that Marilou Sufso is March's recipient of the Caregiver of the Month award. Her heart and desire is to take care of the elderly and she's very passionate about what she does. She considers her clients' emotions when providing care and she genuinely concerns for their happiness and well-being. She treats them like her own family. As a caregiver, one can face many different challenges, and Marilou understands how to deal with the clients, their behaviour and situations, and their families, especially when dealing with someone who has Dementia.
Marilou can identify any situation that can cause setbacks. Her resiliency and her ability to maintain control of any situation is admirable. She's very flexible, understanding and adaptable to any changes. During those times when our office needed someone to cover the shifts for one of our clients, Marilou was willing to work day and/or night shifts without hesitation. She understood that the family would prefer to have the same caregiver to work for their parents, rather than assigning a brand new caregiver who had never previously worked for the parents. The family believed on the concept of continuity of care, and Marilou prioritized our clients to ensure that she could provide the level of care with dedication and compassion.
Marilou has been with Senior Homecare By Angels since 2010 working part-time on weekends as a live-in caregiver with a previous client that was transferred to a nursing home. She worked full time shifts as a live out caregiver in 2015, while studying to be a Personal Support Worker. She was a caregiver in Israel for less than four years and was a Registered Nurse back in her country. She has experience working with Dementia, Alzheimer's, and Cancer. Marilou likes to spend time with her family during her spare time and recharges herself by relaxing and getting some rest so that she can be renewed the next day.
We are so blessed to have Marilou and couldn't be more proud of her accomplishments. She is such a hard-working person and very caring. She is such a gem that is so precious and one of a kind! Congratulations Marilou!