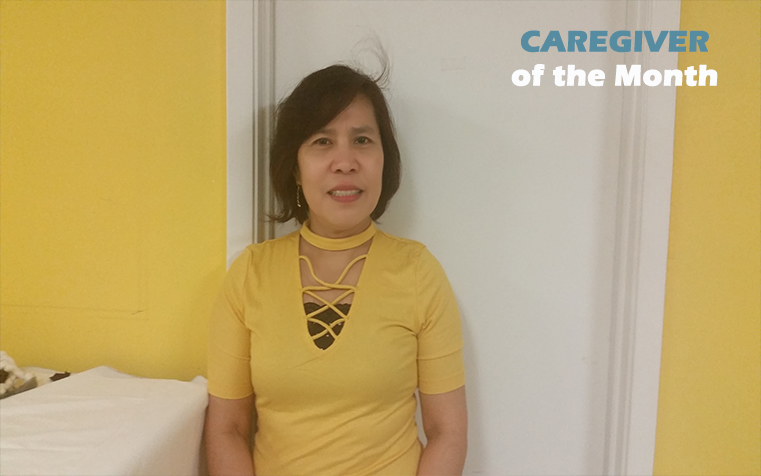 June 29, 2017
Congratulations to Cecile! Senior Homecare By Angels is very pleased to announce that Cecile Malones is our June's recipient of the Caregiver of the Month award. There is no other caregiver like Cecile that exhibits great perseverance, tenacity, and courage. She had endured challenges caring for loved ones that required her to keep going and be determined to provide care and quality of life for someone who had Alzheimer's. She believed that true success comes from being patient, knowledgeable, understanding, and confident. As a caregiver, her main goal is to provide a qualitative life, comfort, and joy to our clients, and she really had achieved on maintaining this purpose.
Cecile treasured every single moment she spent time with our clients, regardless of the circumstances or challenges. She valued the significance of companionship and friendship, and at the same time provided client centred care. She lived up to her moral standards by understanding what our clients had gone through and therefore, enabled her to recognize the meaning of persevere. She provided support needed for our clients unconditionally. Cecile is compassionate, loyal, caring, and takes initiative. She communicates regularly in our office in regards to her schedule changes and updates.
Cecile has been with Senior Homecare By Angels since June 2014 and currently working full time shifts for our client in a homecare setting. The client and family adored Cecile very much, and she was treated like part of the family. She has many years of experience with Alzheimer's, Heart Disorders, Diabetes, and other chronic disorders. She was a Registered Nurse from her home country and worked as a private nurse/caregiver with different families for 5 years. Cecile enjoys reading newspaper, pocketbooks, doing light housekeeping, and baking during her spare time.
Thank you Cecile for your outstanding work and everything that you do for our clients! You are a gem! We are so blessed to have you as part of our team. Well done!