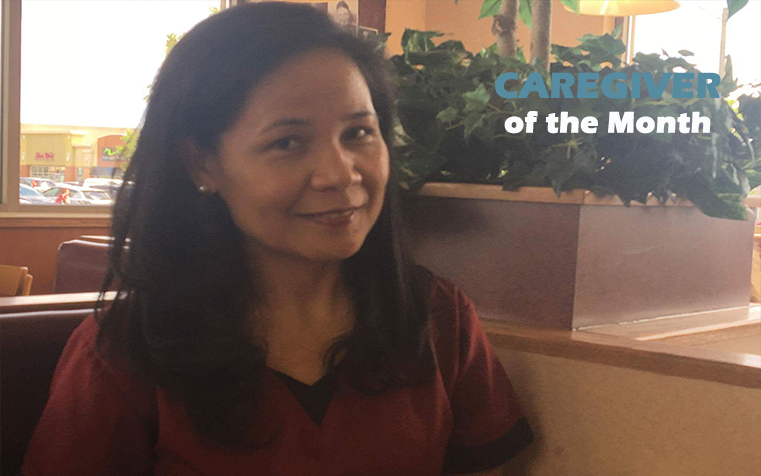 August 30, 2017
Senior Homecare By Angels is proud to announce Cynthia Nacapuy as our recipient, Caregiver of the Month. Her patience, flexibility, and dependability are some of the qualities that we have recognized and valued greatly. She is also very attentive and responds well to our clients' needs. There was a time when our client expressed discomfort and pain and been calling Cynthia's name for the whole night during the time when Cynthia was working, Cynthia had been patient to the client, focused on the client and made her feel comfortable and at ease. When it comes to some changes on the schedule, we can always count on Cynthia to relieve and pick up some shifts. She is a hard working person, dedicated, and always demonstrate positive attitude when dealing with difficult situations or challenges.
Cynthia is a good listener and full of vitality. She loves to hear our client's past experiences and interests when our client shared her life experiences with Cynthia. Cynthia communicates with our client actively and attentively. She does not mind walking every day for about 1.5 km from the bus stop to get to the client's home destination. She is very active and can handle her duties with patience, respect, and dignity for the client.
Cynthia has been with Senior Homecare By Angels since December 2016 and currently working full time shifts for our client in a homecare setting. She graduated Midwifery back in her home country and graduated Personal Support Worker here in Canada. She had worked as a caregiver since 2003 in different countries such as in Hong Kong, Switzerland, and Singapore before coming to Canada. Cynthia enjoys walking and window shopping during her spare time.
Congratulations Cynthia! Thank you for all the wonderful things that you've done for our clients. We are not only grateful, but also inspired by your unique characteristics that make you stand out from everyone. You are a shining star!