Toronto's Leading Senior Homecare

Home Care Services
Senior Homecare By Angels Toronto is a private non-medical homecare company specializing in supporting care for seniors and adults. We preserve the dignity and independence of our clients so they can be comfortable and safe within their own homes. Each client's situation is unique and has different needs. We value our client's requests and preferences. Systematic and thoughtful planning are incorporated during care activities. Our goal is to provide an exceptional care and peace of mind for our clients and their families.
We pride ourselves in matching the needs of your loved-ones with the experience of our care providers. Our clients have the opportunity to meet and make final decisions on selecting any care provider that we refer before commencing care. Our care providers undergo a proper screening and comprehensive background check to ensure that they are the right fit and can match their actual skills and experience to our clients. Upon receiving a conditional offer of employment from our company, they receive training and orientation as well as other ongoing developmental skills required in order to maximize the effectiveness and efficiency of delivering our elderly care services and support to our clients and their families.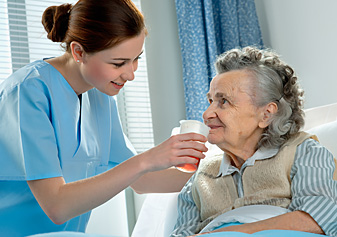 taking medication
taking medication
Our medication management offers a reminder system for your loved-ones, whether they are using a pill organizer or pill tracker, our care providers can assist them.

companionship

companionship
We offer joyful companionship when your loved-ones are in need of someone who can listen and talk to them. Reminiscing the past, looking at photos, and sharing moments together are just some examples of what joyful companionship should be.

personal care

personal care
Our care providers can assist with personal hygiene and personal care such as mouth care, incontinence, and toileting.

bathing & dressing

bathing & dressing
Good grooming is an essential part of personal hygiene. We can help your loved-ones manage their daily routine, such as bathing in shower or tub, bed bath, helping in picking clothes, combing hair, and shaving.

meal preparation

meal preparation
Our care providers have experience in meal preparation and can help our clients in preparing healthy and nutritious breakfast, lunch, dinners, or snacks that suit their lifestyle and preferences.

recreational activities

recreational activities
Keeping our seniors active can enhance their quality of life. It's important to do the activities that they enjoy such as walking, gardening, playing games, bingo, cards or spending time outdoors.

light housekeeping

light housekeeping
Our care providers perform light housekeeping tasks as necessary. Tidying up the client's bedroom and washroom will help facilitate self-care in the home setting for the client.

grocery shopping

grocery shopping
Doing errands for the client is also offered – whether it's buying groceries, or simply taking the clothes to the cleaners.

doctor appointments

doctor appointments
We value your time so if your loved-ones need someone to take them to medical appointments, our care providers can escort them so you can rest assured that we will do everything possible to help.

laundry

laundry
Our care providers perform light laundry, bed making, and linen changes as part of our client's instrumental activities of daily living (IADLs).
Call Now to Schedule an In-Home Assessment
We perform an in-home assessment or in-hospital consultation at no charge. The communication system that we build with our clients and their family is continuous, and it is based on the resources that we offer specifically to their needs after services have begun. Throughout this process, we can ensure the care that you and your family will receive is personalized and parallel. By conducting home visits and telephone check-ins, our clients receive the best possible care since there is a consistent communication between our care providers and our company. Therefore, continuity of care is established in this relationship.
What are you searching for?