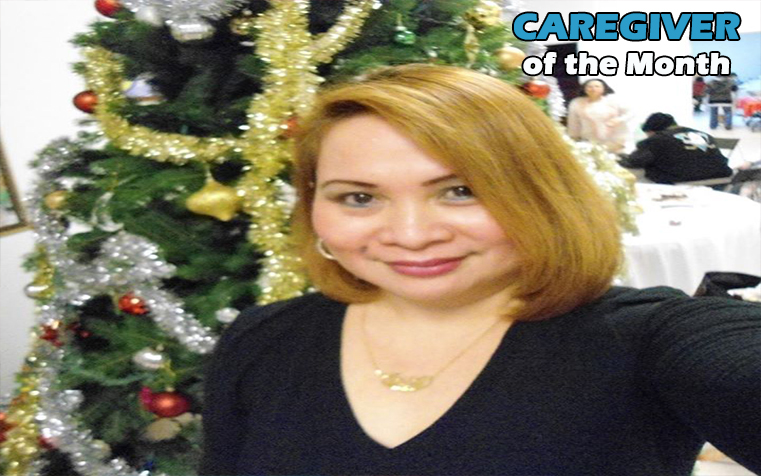 CAREGIVER OF THE MONTH- DECEMBER 2017
March 1, 2018
Uncategorized
Congratulations to Rosario! Senior Homecare By Angels is pleased to announce that Rosario Reyes is our Caregiver of the Month. Rosario is outstanding with her work performance. She is competent, compassionate, and committed to provide consistency and continuity of care. Caring for seniors is her ultimate passion as it drives her innermost desire to help the elderly. She advocates for her clients to achieve the goals, promotes health and wellness, and empathizes their needs. She believes that it is important for her to care and treat our clients as a whole person- mind, body, and soul. It is a holistic approach, and she did a great job on delivering this concept.
When it comes to flexibility, Rosario does not mind taking more shifts and covering another schedule if we asked her to pick up some shifts. She likes to work and does not complain if we needed her to relieve another schedule. She is diligent, follows instructions, and communicates back in our office for client's updates and schedule changes.
Rosario has been working with Senior Homecare By Angels since December 2016. She studied Personal Support Worker and just completed her Physiotherapist Assistant. She was a Registered Nurse back in her homeland, and had been with the nursing profession for 15 years. She believed in the power of knowledge. When she was working as a Senior Care Assistant in United Kingdom for 2 years in a nursing home, it gave her a motivation to perform better by learning to be more attentive and responsible so she could provide a better quality of care to her residents. She felt her life had resulted a great and promising opportunity when she moved here in Canada for good. Rosario likes to unwind by relaxation, treat herself with good and healthy food, tidy up her room and organize her things, and plan ahead for the next day.
We are so blessed to have Rosario on our team and proud of her achievements. Thank you, Rosario!