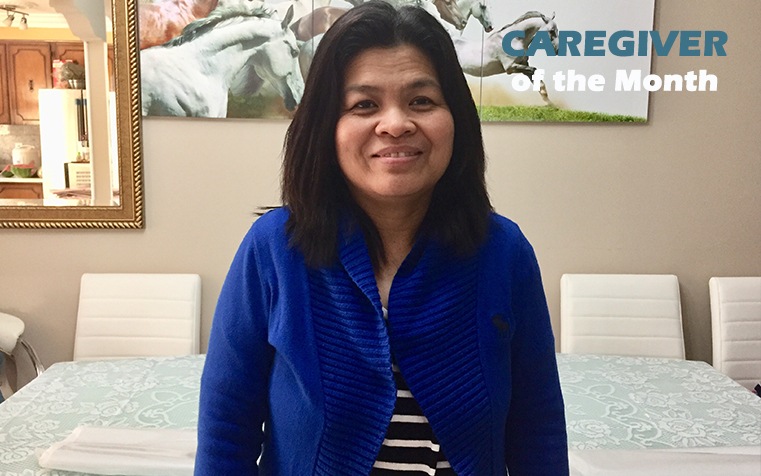 CAREGIVER OF THE MONTH- APRIL 2019
May 21, 2019
Uncategorized
Senior Homecare By Angels is proudly present Merlita Abaya, our Caregiver of the Month. Merlita's optimism nature is inspiring. She keeps her perspective in a positive way regardless of any situations or challenges that she is dealing with our clients. She is hopeful and confident when she is in charge of the client's well-being. For instance, when she was handling clients who had Alzheimer's, and she had to give them a bath or shower, she was counting from first step to the last to encourage the clients to move their foot. She would praise them and exclaimed "hooray" when these clients succeeded on reaching the next floor. One of her most memorable experiences with our clients was when she peeled and gave a banana fruit to the client, and the client ate the entire fruit even the peel when she returned back after a short moment. She is passionate about caregiving. For her, she treated our clients like grandparents. She loves helping them and providing great care.
Our client's family are grateful for all of Merlita's help and support. According to the client's daughter, "Merlita is a wonderful and compassionate caregiver. She always come with a sunny disposition and a smile on her face. She has a kind heart and cares for her client as if they were her own family. When there are any concerns, she will call to check to make sure they are fine. She takes good care of her client and will tend to all their needs. She feeds them, cleans them, and is always aware of their special non-verbal cues. Merlita will also help with household chores and help prepare a client for their appointments, thus relieving the burden on the family. In addition, Merlita is a valuable team member that works well with the LHIN caregivers and all family members."
Merlita has been working for Senior Homecare By Angels since August 2016. She is currently working part-time with our client in a homecare setting. She completed her B.S. RN back in her home country. She studied Medical Laboratory Assistant and Personal Support Worker here in Canada. She had worked as a Personal Support Worker in a retirement home for 17 years.
Merlita enjoys listening to Christian music, reading books, and the Bible. She likes a quiet time with God.
Congratulations Merlita! We are so proud of your achievement. We are so blessed to have you on our team. Way to go!