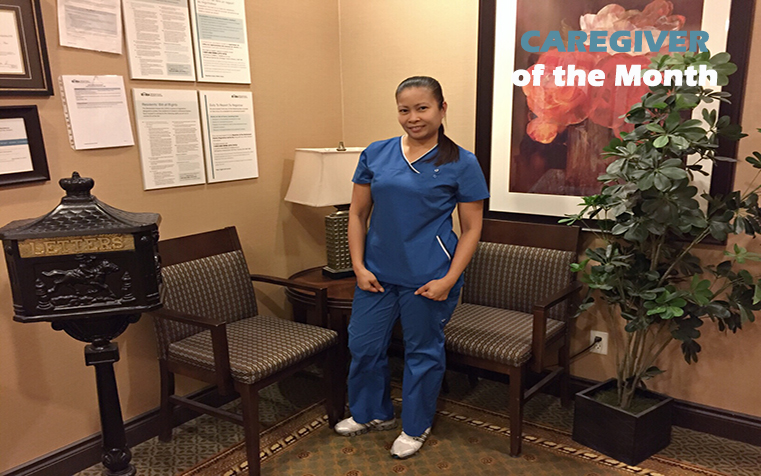 CAREGIVER OF THE MONTH- APRIL 2017
May 9, 2017
Uncategorized
Senior Homecare By Angels is proud to announce that Reynaly Vila is our April's recipient of the Caregiver of the Month award. She was recognized for going above and beyond the call of duty, working cooperatively with the team to ensure that our clients are receiving proper care and attention, picking up shifts when we needed her to work, and exhibiting positive attitude at all times. Reynaly's influence to our team inspires others by her great attitude, positive energy, and a big smile on her face. She always maintains this positive attitude when working for our clients as she believes that it is a rewarding experience for her to be able to express that to our clients and make them feel happy at the end of the day, throughout the course in every journey.
Reynaly had demonstrated delivering a client-centred approach to our clients by providing a more personalized and caring approach, being empathetic to their needs, motivating them to fulfill their own potentials. She is dedicated, passionate, and very much involved with our clients, and at the same time enjoys spending time with them.
Reynaly has been with Senior Homecare By Angels since May 2016, and currently working full time shifts for our clients in a Retirement Home. She had worked as a caregiver for children and elderly with Dementia and Alzheimer's. She studied and completed her Personal Support Worker here in Canada. Reynaly enjoys knitting, crocheting, gardening, planting vegetables and flowers during the summertime.
Thank you Reynaly for all the support and care you have done for our clients, their families, and our team. You are truly one of our angels that is so precious. Congratulations Reynaly! Senior Homecare By Angels is glad to have you as part of our family!